Vault
 contains all of the server automatic and manual backups. It's very simple to use it to rollback your entire server to a previous backup. You can also rollback specific folders and files.
Table of Contents


1. Where is Vault?
2. Create a Backup
3. Start a Rollback
4. Select Specific Path
5. Rollback Specific Files and Folders
 (Such as Minecraft worlds and player data)
6. Finish the Rollback
1.
Click on
Vault
on the left side of
Command Center
under the gear icon.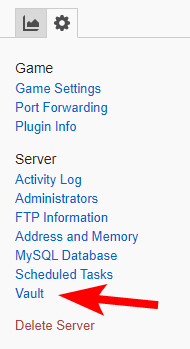 2.
Vault won't let you do a rollback unless you've made a backup within the last hour, so go ahead and make a backup now.

3.
Click on Rollback next to the backup you'd like to rollback from. (If it won't let you click it, make sure your server is stopped.)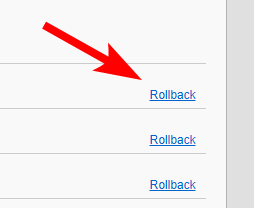 NOTE: If all you needed to do was rollback your server entirely, then you can skip to step 6.
4.
Click on the checkbox for
Specific Path
.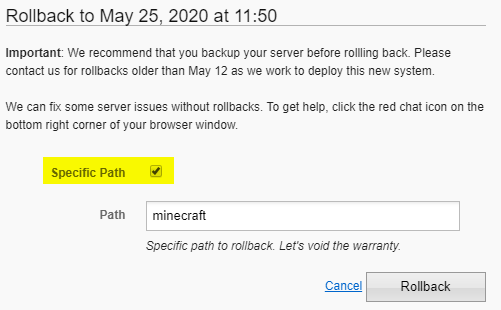 5.
In the text box that shows up, you can add the following as examples of what you can do:
Common Minecraft Files and Folders
To rollback your world, you can add the name of the
world folder (check steps 4 and 5 of this article)
to the end like this:
minecraft/world
To rollback all of your player data, you can add the name of the world and the playerdata folder like this:
minecraft/world/playerdata
To rollback a specific player, you'll need to
look up their UUID with a tool like this
, and then enter it in the text box like this (make sure to use their UUID as the following is just an example):
minecraft/world/playerdata/09fc616f-8a65-45cb-9d30-ece27936be40.dat
6.
Click on the
Rollback
button.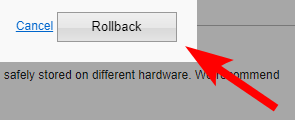 You can do this with any file you can find the path for. If you still need help, make sure to
contact us
.